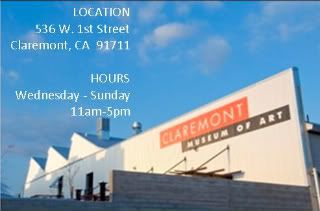 Sign up for
CMA news
Become a CMA
member
Visit CMA's
website
Follow CMA on
twitter
GENERAL INFORMATION
:
HOURS:Wednesday-Sunday 11 a.m.-5p.m.
ADMISSION:
Adults: $5
Children under 18: Free
Members: Free
LOCATION
Claremont Museum of Art
536 West First Street
Claremont, CA 91711
909.621.3200
www.claremontmuseum.org
CURRENT EXHIBITIONSJames Hueter: A Retrospective February 22 - July 26, 2009
This retrospective exhibition chronicles the work of James Hueter, one of our region's most dedicated artists and best-kept secrets. Hueter epitomizes a generation of artists who established their reputations in Claremont following World War II and contributed importantly to the creation of the art-rich environment we enjoy today. A 1948 graduate of Pomona College and 1951 recipient of a Masters Degree from the Claremont Graduate School, Hueter has enjoyed a career that spans 60 years and continues to be as productive as ever.
James Hueter: A Retrospective surveys Hueter's art from his early realist and surrealist paintings, through a long period of investigating and refining hybrid forms of painting, sculpture, drawing, photography, and architecture. The exhibition culminates with recent works that meld all of these disciplines, exploring multi-faceted realms of representation and illusion. With more than 75 works on view, new generations will discover an artist of diligent devotion to a vision sustained through decades of experimentation, refinement, and perseverance.
This is the first such exhibition to examine the entire range of James Hueter's unique artistic vision, realizing a core mission of the Claremont Museum of Art to celebrate the region's rich artistic heritage through in-depth exhibitions of its most prominent local heroes.
Connect with CMA through other social networks:
Facebook
Myspace
Twitter