Our guest critic, the independent curator, critic and regular reviewer for
ArtReview
magazine, Laura McLean-Ferris continues her selections of outstanding artists on artreview.com.
Anonymity. There's not a lot of it about. We're in the grip of a high-visibility period when it comes to culture and personality. MySpace, Facebook,
Heat
magazine… On artreview.com most members have little avatars – a photo of a face (your face?) or an abstract image, or did someone perhaps catch you at an arty party?
However, we have – literally and metaphorically – all seen up Britney and Lindsay's skirts by now, and it only follows in the cultural push-pull that there will inevitably be a backlash to this trajectory. Post-Basel, with all that exhausting 'face-time', it's time to take a trip in the other direction. So hide your faces and come with me in search of anonymity: after all, you wouldn't want to get papped looking like that would you?
Brian Harte, ORMEAU PARK 3, 2007
You won't find any faces here, and what strange killing game is this? Dead bodies everywhere, with a strange body count next to them. The blankness and anonymity of
Brian Harte
's figures here recall LS Lowry's matchstick workers leaving the factory. Harte's title immediately had me googling to find out about a massacre in Ormeau Park, Belfast, but like the figures themselves no history is forthcoming.
The painting's ground is divided into colour fields, as in abstract painting, but it might also represent water, a wall, snow, ground, sky. Are the figures sleeping, after a festival? Or are they dead? The black blood of their suits bleeding into the ground….
Also recalling Lowry's paintings and their expression of the anonymity of modernity is this rain-on-lens photograph from Danish-born artist
Alexandra Buhl
, who studied at Goldsmiths. Here she takes a CCTV approach to a street photography – an all-seeing-eye that manages to see everything and nothing at once.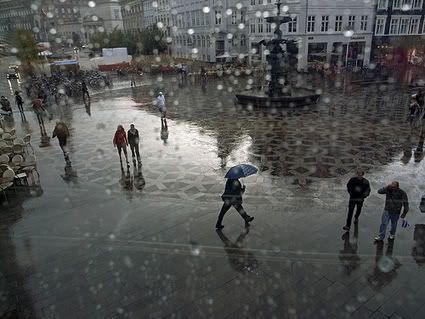 Alexandra Buhl, Untitled
Buhl has a plethora of eclectic and intriguing documentary images on her profile page, as well as a lot of portraits on her
website
, but, interestingly, much of the work explores portraiture as a representational trap, and many of her images of women in particular are fragmentary images of body parts, such as legs and stomachs.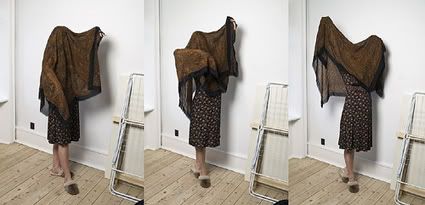 Alexandra Buhl, Hide and Seek
The figures here seem caught in a bind, unable to represent themselves through image-making. The viewer, the photographer and the subject are all part of a process of refusal and small resistance.
Eva Lis
uses an extremely economic style of line drawing that gives faces anonymity by reducing them to basic features. These drawings look like they're traced from photographs – either from newspapers, or a personal archive.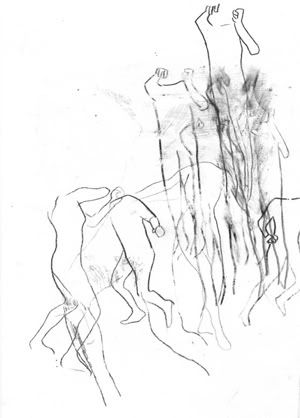 Eva Lis, First Day in a New Country
Lis, whose other projects include travelling around the M25 London orbital in a reflective black wagon drawn by a gypsy-like pony, explains on her website how her experience as an immigrant has been a 'ghost-life', fuelled by dreams, and the title of this work, together with the headless, mannequin-like figures, certainly conveys a sense that one's identity is lost in this process.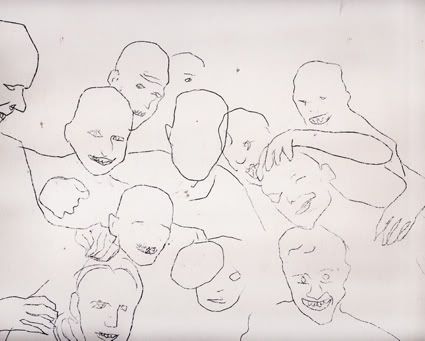 Eva Lis, TEAM
The particular can be found through the universal, and vice versa, and this image, entitled
TEAM
, looks exactly like one that can be found on my brother's wall at home. And probably your brother's. Or yours, a friend's, cousin's, or boyfriend's, as each member and each face is interchangeable with any member of a group of boys: a football team, a group of friends, a university or school photo. A pro-forma, identikit model for male sociality, if you like.
Another approach to non-portraiture can be found in the work of
Robin Clare
, from Brighton, whose paintings employ an amusing anthropomorphism, allowing household objects to stand in for human counterparts. The house is a well-worn metaphor for a the human body, with its extensions of bodily processes involving respiration, ventilation, waste disposal and fuel intake. This funny painting of a toilet 'hiding' behind a skip manages to capture a gleeful expression on the toilet's 'face' as though it has outwitted its captors who would take it away to be dumped.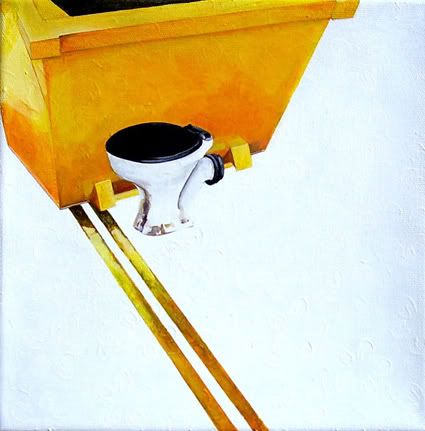 Robin Clare, Hiding
The objects that Clare uses manage to appear pathetic and sorry as well as vibrant and mischevious, painted in a milky dreamy style perfect for capturing the futuristic dreams that 'white goods' once provided.
Robin Clare, Radiator on Lime Pattern
Clare also depicts objects in a discarded and degraded state, but on a background that evokes the popular styles of advertising, wallpaper and patterning from the 1950s and 1970s. Clare describes this juxtaposition as a 'metaphor for homelessness and our impact on the word.'
Deborah Hally, The Kingdom
Deborah Hally
's photographs of children are all faceless too – and children's faces are especially
well-guarded
in the age of the all-seeing camera, particularly when there is a heightened fear of predators.
However it is the children themselves who obscure the faces in these works, rather than those blurry pixels that we have become accustomed, attaching them with a level of power and agency as they seem to control our gaze. This work of Hally's in particular has a peculiar David Lynch feel to it. Are we looking into a tiny doll's house. Is it a dream, is it a memory? The image conveys the sense that there is something of the realm of childhood that somehow escapes us as adults and becomes frightening. The child, or the memory might just slip behind the striped circus curtain into a strange, non-linguistic world inaccessible for grown-ups.
_
Laura McLean-Ferris is an independent curator and critic, and a regular contributor to
ArtReview
magazine.
For more artworks picked out for the Roundup, see the
slideshow
.
Roundup #9
Roundup #8
Roundup #7
Roundup #6
Roundup #5
Roundup #4
Roundup #3
Roundup #2
Roundup #1