By James Westcott
In term
s of artists who are good at living, and whose art makes them better at it, Marcel Duchamp and Jackson Pollock represent the two polar extremes. Duchamp shunned the limelight, rejected conventional art practice, and developed a kind of life practice instead. He spent decades concentrating on chess, preserving his freedom, and noodling away in secret in his studio. "When you only make one or two of these [readymades] a year," he told BBC Radio in 1962, casually but with total seriousness, "you have a lot of time to think about other things." In other words, his practice was happily and calmly spread throughout all areas of his existence. On the other end of the scale, we all know how tragically wretched and wasted Jackson Pollock was for all but a handful of his adult years, the same few years that he was dry and making his best paintings.
Dutch artist Madelon Vriesendorp is emphatically on the Duchamp end of the scale, in many more ways than one. With her husband Rem Koolhaas and Elia and Zoe Zenghelis, Vriesendorp co-founded the Office for Metropolitan Architecture in 1975. But as Koolhaas gathered formidable momentum and Vriesendorp started selling her fantastical, audacious renderings for the then incredible sum of $10,000 (thus funding OMA's early competition entries), she snuck out of public life.
Instead, in a half-conscious strategy, she integrated her art practice into her life practice, yielding enormous pleasure dividends in her own life and those around her. Now, that pleasure is spreading further and wider through her retro-and-future-spective at the Architectural Association,
The World of Madelon Vriesendorp
. It is the first time her paintings, postcard and object collections, and games have been brought together and accounted for, and the first time much of it has been seen and analysed in an art context.
Vriesendorp spread her art through her life in two ways: firstly, by migrating from painting to collecting bizarre objects from around the world, she became a magnet for gifts from traveling friends, and her house quickly turned into an exhilarating archive of serious kitsch; secondly, by reciprocating the gift-giving with a relentless regime of generosity and ingenuity, she lived out dozens of ever-unfolding projects, making costumes, clothes, and cakes for everyone and every eventuality. In the exhibition catalogue, Fenna Haakma Wagenaar notes how Vriesendorp made hats out of socks for her children, and "For Rem's birthday, she made a cake based on his 'Story of the Pool' scenario, with him as a solitary constructivist swimmer".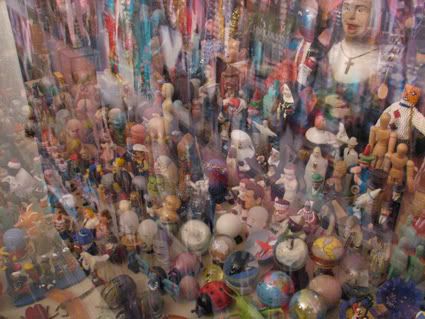 All photos here: James Westcott.
In Vriesendorp's "city" of objects upstairs at the AA, you're confronted,
stared-down, and overwhelmed by a vast army of touristy trinkets: nuns, skeletons, plastic food, multiple iterations of the Statue of Liberty, aliens, snowglobes, robots, cowboys, hindus, buddhas (on phones and with headphones), body parts – especially feet, hands, tongues and eyeballs – monkeys, flies, lady birds, centipedes, snakes, and buildings, buildings, buildings caricatured and reduced to their essence in little cute models meant for the mantelpiece back home. Vriesendorp has said that she's only interested in failed objects, and that in her global city she feels like a tourist who has been given the wrong directions, misheard them and ended up in the right place anyway. She calls this practice "misconceptual art".
The hundreds of glaring objects, regimentally arranged in height order, all facing you directly, are more than receptacles for easy, endlessly forgiving affection. They are demanding something from you, something harder than an answer – a question. "As an artist I find answers," Vriesendorp said in a lecture recently at the AA (listen to her talk
here
). "I find something and I know it's an answer to something, but I am looking for the question." One of those questions might be: How do we really understand our most pervasive cultural symbols?
If the postcards she collected with Koolhaas during the mid 1970s in New York form a loose typology of Americana – its bridges, roads, prisons, skylines, cowboys – Vriesendorp has since then gone on to collect
archetypes
– of postmodernity, something that shouldn't have archetypes. Her objects are cacophonies, mini-culture-clashes, depraved and denuded concepts, orphans, clones, "freaks of culture", impossible combinations and absurdities accumulated into their most imperfect (and therefore postmodernly perfect) form. It is the dream life of global culture.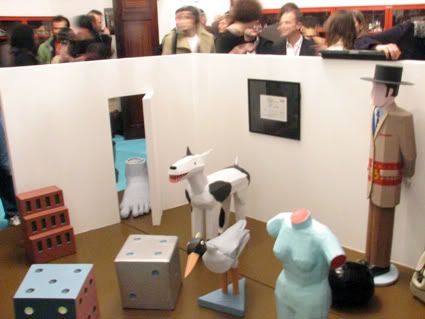 Vriesendorp's passion for junk analysis and "playground surrealism" finds characteristically generous and funny expression in a game you can play at the AA. There's a stage set equipped with various psychoanalytic props: a sharp-toothed dog with markings like a cow, a cowboy, a giant golden bean with polka-dots, two large dice, and what I think is a heron. You're meant to arrange the objects freely, and then get your friends to guess what the arrangement reveals about your psyche. (Pollock actually did something similar, but with totally the opposite spirit: making contrived and heavily symbolic drawings for his Jungian analyst to piously ponder.)

Madelon Vriesendorp, Flagrant Delit, 1975. Courtesy CCA Montreal
The gallery downstairs shows Vriesendorp's early paintings, including the legendary
Flagrant Delit
(1975). Used on the cover of the first edition of Koolhaas's
Delirious New York
(1978) – though not, as the catalogue sets straight, commissioned for it – the painting shows the Empire State and Chrysler buildings in bed together, a wilted prophylactic with "Goodyear" on it discarded on the bed. The straight-laced RCA building has burst in the door, shining its spotlight on them. Through the window, all the buildings are faces glaring at the naughty couple. It's impossible to look at the Manhattan skyline in the same way after
Flagrant Delit
. Vriesendorp's ultra-sensitive antenna picked up the latent desire in the these preening skyscrapers, aching for each other and crying out to each other across 10 relatively stumpy and drab midtown blocks. Vriesendorp's imaginary intervention into the skyline is as psychologically significant and enduring as any new building there would be.
An animation, made with Terri Wehn-Damisch in 1979-80, tells the whole story behind the skyscrapers' triste. The main protagonist is in fact the Statue of Liberty. She's hiding in the dresser during the act, lighting the way for them with her torch, which pokes through to the surface. Afterwards, she's struck by jealousy and, apparently for the first time, puts on lipstick and tries to make herself look sexy in a mirror. Why does she always have to be the principled one? The weight of it is getting her down. She trudges moodily downtown and abandons New York for a surreal desert, where she crack in half and water gushes from her hollow centre, draining out a miniature Manhattan island, limp like a fried egg. Later, after slouching back to an iced-over Manhattan (Vriesendorp foretells
The Day After Tomorrow
, if not the collapse of the Gulf Stream), she immolates herself and an airship emerges from her womb. The piece ends with film footage of the Hindenburg disaster, and what started out as surreal comedy turns to doom.
Another gem about the dream life of cities is
Freud Unlimited
(1975), in which Manhattan island is a bed, and underneath the supposedly rational system of 2,027 identical city blocks, there lies an exhilarating tangle of tubes, like waterslides or roller coasters, energizing and evacuating everything that plays out on the surface.
Installation view of
Superpainting
(2007)
If the exhibition is meant to bring this voluntarily outsider artist into the public eye and maybe even into a new regime of art production, Vriesendorp has already made something of a swerve away from this expectation with her newest work, the
Superpainting
. She was aksed to make this especially for the exhibition. It's a slow, detailed, organized, and slightly surrealized illustration of her studio, a wunderkammer of insane and inane objects (except the cabinet that should contain her "city" is empty, and the ironic little poster given to her by Superstudio, proclaiming "Life Without Objects" is sadly no longer ironic).
Superpainting
is beautiful, regular, calm, takes stock, and came into existence soberly, deliberately and for a specific reason. You can tell that Vriesendorp got bored painting it. Real life is in the objects.
___
For more images from
The World of Madelon Vriesendorp
, from her studio and from her archive, click
here
.
For a video of Charles Jencks's talk at the opening of the exhibition, click
here
.